Neymar faces fraud charges in his transfer from Santos to Barcelona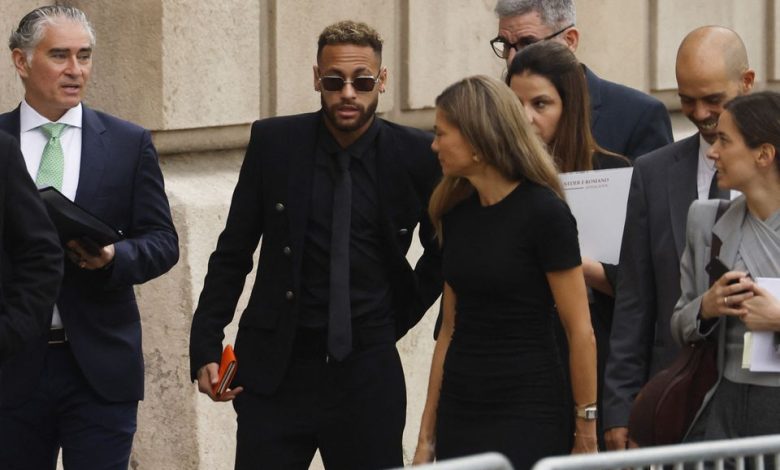 Neymar arrived with his father in Barcelona today, in preparation for appearing in court to face accusations of fraud and corruption during the player's transfer from Santos to Barcelona in 2013 in a lawsuit brought against him by the company that owned a percentage of his rights
Neymar is on trial, with the World Cup approaching a month later, in Spain today for alleged irregularities in his move to Barcelona nearly a decade ago.
And the English newspaper "Daily Mail" confirmed that Neymar, 30, arrived at the Barcelona Regional Court this morning for the trial, to continue the series of his trial that has lasted for years since his move in 2013 from the Brazilian club Santos.
The English newspaper added,Neymar is one of nine defendants on trial on corruption charges, including his parents and their company, N&N, which runs his affairs, and the three face commercial corruption charges.
And if convicted, Neymar could face a two-year prison sentence and a €10m (£8.6m) fine, the Mail said.
And it continued, investigators began investigating the 2013 transfer after a 2015 complaint filed by DIS, a Brazilian company that owned 40 percent of the player's sporting rights when he was at Santos.
Barcelona officials said at the time that the deal cost €57.1m (£49.4m), but prosecutors believe it was at least €83m (£71.8m).
The club said it had paid €40m (£34.6m) to N&N and €17.1m (£14.8m) to Santos, of which €6.8m (£5.8m) was given to DIS.
Also among the other accused are two former Barcelona presidents, Sandro Rosell and Josep Maria Bartomeu, and former Santos president Odilio Rodriguez Filho.
Neymar will testify on October 21 or October 28, but it is not known if he will have to appear physically and the trial is set to end on October 31.
Neymar participated with his team Paris Saint-Germain in its match yesterday in the Clasico against Olympique Marseille and succeeded in scoring the only winning goal in the summit match in the eleventh round of the French Football League.