Kessie Won't Leave Barcelona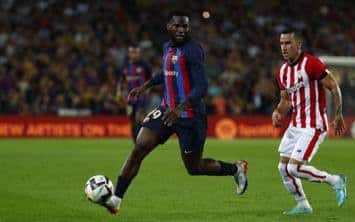 FC Barcelona agent Frank Kessie denied the player's desire to leave during the upcoming winter transfer market.
The Ivorian midfielder joined Barcelona from Milan on a free transfer during last summer's transfer market.
According to the Italian website Calcio Mercato, Quisier is looking to leave Barcelona in January, where he has several offers including a return to his former team, with Spanish newspaper Mundo Deportivo highlighting the statements of George Atangana, the player's agent, saying: "It's fake news, absolutely false."
He added: "Kessie is very happy at Barcelona, he joined the club just a few months ago and is still in the process of adapting to the team and the style of play of Albersa, which has nothing to do with the rest of the clubs and so it takes time."
ATM: "Kessie will continue to work to earn a place in the team, he is not a player who gives up easily, he had other offers in the summer and bet heavily on Barcelona."
Kessie Ivorian footballer, previously played for Chizina and Stella Dadjami clubs. He is currently playing for Spanish club Barcelona as a midfielder after moving to them in the summer of 2022 following the expiration of his contract with AC Milan. [1] He has also participated in the Ivory Coast team in several international matches.