Real Madrid won't be involved in a bidding war for Endrick and Bellingham
They are not the only players being watched by the sports management of Los Blancos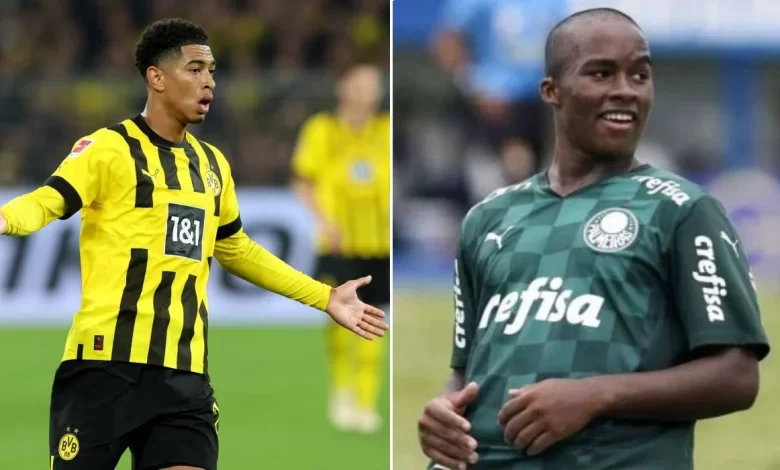 Bellingham and Endrick are the two targets to achieve in the short term that Real Madrid have set for themselves.
The English midfielder has the desire that to leave Borussia Dortmund in the next summer market in 2023 and the Brazilian wonder kid aiming for that a year later when he is 18 years old, since before it is impossible.
They are not the only players being followed by the sports management of Los Blancos, but they are those who are in danger of being seduced by other teams. There is concern about what may happen, but not urgency, so risky movements for the Real Madrid entity are ruled out.
How far will Real Madrid go? Has a limit been set? As has happened with the last signings, both with transfer and negotiation with a club, as with players. the limits are set by the club leaders as they won't be involved in a bidding war.
In both cases, the ambition and the desire to wear the white shirt seems assured, but the time has come for the appearance of other teams and other interests, sometimes, to the desire of the player in question. In the case of Bellingham, the Englishman gave Real Madrid positive indication for playing at the Santiago Bernabéu as home and in fact resisted renewing, but the sudden appearance of Liverpool has changed the scene.
The player who intends to play in Real Madrid will be 'obliged' to give up certain incentives that will come from other teams in the race to achieve his services. There is no other. From the club understand that the commitment cannot be questioned because it is the basis of the success of the group, true benchmark of what the current Real Madrid is.
The 150 million euros that Bellingham talks about are Exceeding the limits of what Real Madrid consider acceptable in the transfer. Not all players have the same limits. In the case of the 19-year-old Englishman, the football arguments are on his side, as they were with Aurélien Tchouameni, but in no case do they think of doubling the bet, going from 80 to 150 million euros. The Frenchman wanted to play for Real Madrid and gave up money for it.
In the case of Endrick the presence of a senior executive of Real Madrid says it all. The work of the possible signing began a year ago and now has moved to action with the presence in Sao Paulo in less than four months and laying the foundations of how far Los Blancos will go. Now the ball is in the court of Palmeiras and those 60 million negotiable euros contained in the release clause, besides the commission sought by the family of the player, the agent and the player himself.