Xavi Simons, a season of wonders: "He is well above his age"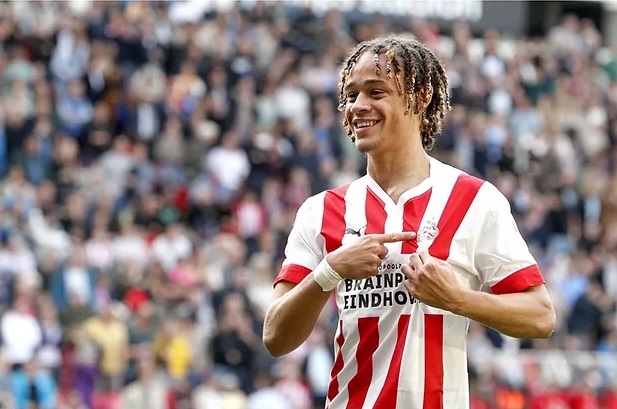 The former of Barcelona and PSG directly responsible for 10 goals in his first 16 games with PSV
Xavier Quentin Shay Simons (Amsterdam, 21-4-2003) was fed up with playing with 'children'. Last season he walked through the Youth League -he scored four goals and assisted six in seven games-, but, since the door of the first team was still closed, He chose to change
the Paris Saint-Germain to the PSV Eindhoven.
The change has not been bad for him. The ex-Barcelona is starring in a premiere of his role '10' in his first full season in a major league, as it's mid-October and Xavi Simons has already accumulated 10 goals in the 16 games he has played between all competitions.
He scored a goal in the victory against Ajax (5-3) in the Super Cup, scored another goal in the win over FC Zurich (5-1) in the Europa League and adds eight goals in the League. Only his teammate Cody Gakpo (9) has more. and it should be noted that Gakpo, unlike Simons, has scored two goals on penalties.
His double against Utrecht (6-1) last weekend allowed him to set a new record in Dutch football. Xavi Simons became the youngest footballer (19 years and 178 days) to score 8 goals in his first 10 games with PSV in the Eredivisie since Willy van der Kuijlen (17 years and 338 days) in 1964.
And Van Nistelrooy – PSV head coach – has been testing him midfielder, playmaker, false 9… The former Real Madrid player is delighted with the signing of Simons. "His mentality, his professionalism… is unprecedented. He has just turned 19, but he is well above his age. He wants to make the most of his qualities and will do his best to reach the elite of football," says the PSV coach.
He has just turned 19, but he is well above his age. He will do everything possible to prove his presence in the elite of football level.
The debate in the Netherlands is open. No one doubts that he is on merit to be in Qatar 2022, but he has not yet debuted with the 'Oranje'. What's more, he has just debuted with the under 21.
Will he be on Louis van Gaal's 26th list for the World Cup? Simons himself leaves the door open: "I only think about PSV but playing a World Cup is a dream I have since I was a child. We'll see when it comes… The important thing, right now, is that I am enjoying a lot with the team."