Odds:Haaland's Absence From The Upcoming Matches Due To Injury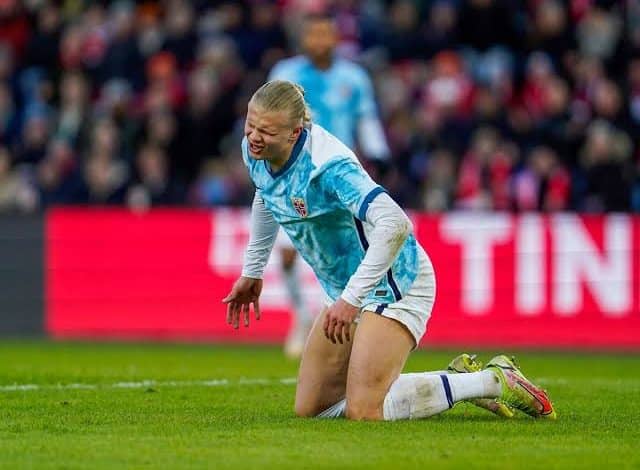 Norwegian Erling Haaland, the Manchester City striker, was injured against his former side, Russia Dortmund, and left the stadium after 45 minutes. Spanish coach Pep Guardiola worried about a possible absence of team targets in upcoming meetings.
During the first half of the meeting, the Norwegian striker had no impact on the meeting. He touched the ball 13 times, made 7 passes and did not shoot a ball against the rival. He also suffered a blow to his hand and appeared to be in blood.
Haaland did not participate in the second half of the game, Riyad Mahrez missed a penalty and Manchester City were guaranteed the top of the group, while Russia secured Dortmund qualification as the second group for the round of 16.
Spain's Pep Guardiola expressed concern over Erling Haaland's injury and said of the three cases he noticed: "First I saw him tired, second he had a fever in his body, third he took a blow to his foot and so he didn't play the second half."
The Spanish coach added about the seriousness of the injury, "I don't know yet, I spoke with the medical staff at half-time and they were worried, but I saw him walking well after the end of the meeting.
"We came out of the game like we wanted, we were in the round of 16 so Dortmund didn't want to press high, they seemed to think the tie was good for them and for us as well."
Manchester City will face their counterparts Leicester next Saturday in the Premier League and need their Norwegian striker, who failed to score in the third meeting of the season, after Bournemouth and Liverpool meetings, while missing the Copenhagen Champions League meeting
Erling Haaland has scored 22 goals for Manchester City in 15 meetings this season in all competitions, and leads the Premier League's top scorers with 17 goals.