Iniesta's request for Riquelme and the former River who was his idol
The former Barcelona footballer and world champion with Spain in 2010 said he awaits the invitation of the vice president of Boca to be in the Bombonera. In addition, he recalled his admiration for the former player emerged in River.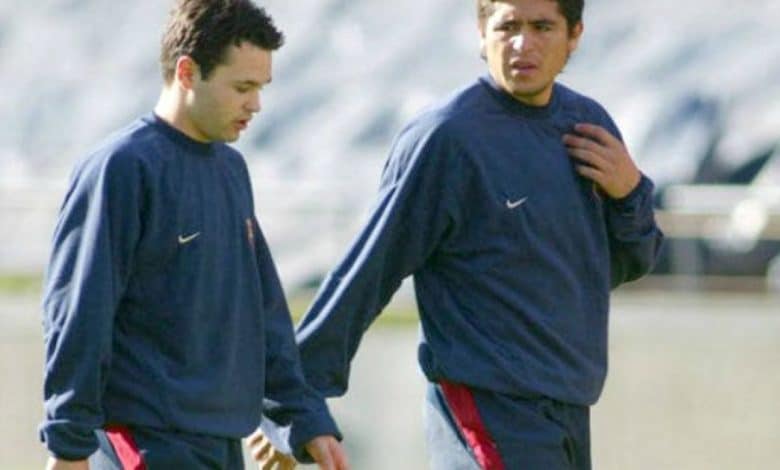 Andrés Iniesta told details of his friendship with Juan Román Riquelme, the vice president of Boca Juniors who asked him to invite him to the Bombonera and revealed that as a boy he idolized the former footballer born in River, Pablo Aimar.
The ex-partner of Lionel Messi in the multi-champion Barcelona remembered the idol of Boca, with whom he shared a team at the culé and forged a close bond and confessed: "I would like Riquelme to invite me to the Bombonera. From what I have heard and have been told, the atmosphere is spectacular. I like Argentine football a lot."
Iniesta spoke about the relationship he still maintains with the current vice president of Boca. "With Riquelme we exchanged messages. We have maintained that contact. It was special to be with him in the locker room and watch him train and play," he said, and no praise was kept for his friend: "The five players I enjoyed playing on a field were: Xavi, Neymar, Eto'o, Busquets and Román.
On the other hand, the former midfielder also left a phrase for the fans of River when he declared that as a boy, he admired Aimar. "My idol was Pablo Aimar. When I saw him play in Spain. For those of us who like football it has always been special to see him play", he admitted in reference to the passage of Cordoba by Valencia, with which he was champion, and Zaragoza, between 2001 and 2008."
In turn, to explain this special connection with Boca and Argentinean football, the Spaniard expressed that all his life he has awakened interest " I have always liked Argentine footballers. I would like to visit Argentine stadiums", he closed.
Iniesta was already in the country shortly after having been champion in South Africa 2010 when the Iberian team came to play with friendly Argentina. That time the team led by Sergio Batista, who took command after the departure of Diego Maradona, beat La Roja 4-1 in the Monumental. Meanwhile, the European team trained in the previous in the Bombonera.