Pep Guardiola is left speechless by Riyad Mahrez's missed penalty in Manchester City's 1-1 with Borussia Dortmund as Erling Haaland is taken off at halftime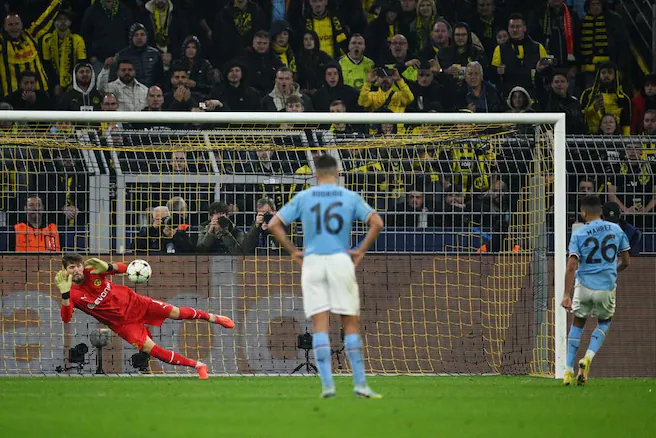 By Maria Mark
At halftime, Erling Haaland was replaced, and Manchester City's disappointing night was made worse by Riyad Mahrez's missed penalty.
The 22-year-old striker had a difficult 45 minutes against Borussia Dortmund, his previous club, and the game ended scoreless at Signal Iduna Park.
At halftime, Bernardo Silva replaced Haaland, and jokes about him going 92 minutes without a goal were made.
Prior to being replaced at halftime, he managed just 13 touches, no shots on target, and seven passes.
However, manager Pep Guardiola claimed it was more of a preventative measure because he had a small fever prior to the game.
Haaland scored twice in Saturday's 3-1 Premier League victory over Brighton at the Etihad Stadium, bringing his season total to 22 goals in just 15 games.
Mahrez, though, had the chance to be the hero and give his team a 1-0 lead but Gregor Kobel saved his penalty.
The 24-year-old shot-stopper made a fantastic save to save the Algerian international's shot to the keeper's right.
His miss makes them three penalties he hasn't successfully converted in 2022.
Guardiola's expression, in which the Catalan manager buried his head in his hands, said it all.
He was furious the entire time, frustrated that City had failed to win over Germany.
In reality, it brings Guardiola's total at City to 25 squandered opportunities, whereas Mahrez's record is:
Penalties taken: 32
Missed: 10
Scored: 22