Ener Valencia: I was dreaming of winning the opening game…and I hope to catch up with the next match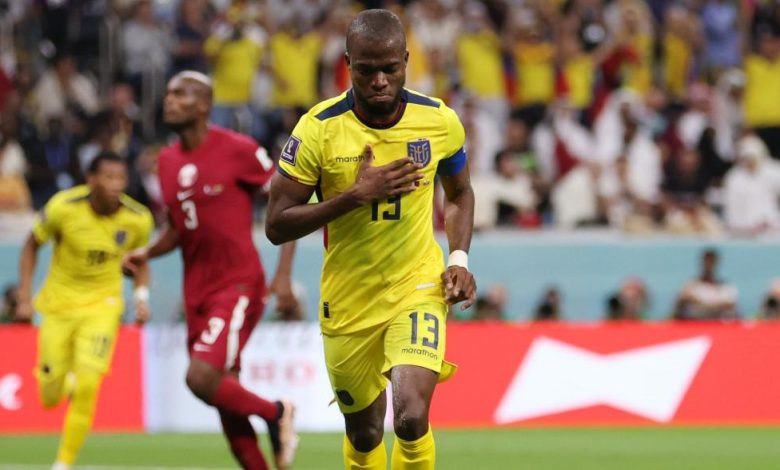 Ener Valencia, the Ecuadorian national team player, revealed that he suffered a bruise during the Qatar match.
The Ecuador national team achieved a 2-0 victory over Qatar in the opening match of the 2022 World Cup.
Valencia scored both of Ecuador's goals and was awarded Man of the Match.
Valencia said in statements to reporters after the match: "We knew that the match would be complicated, but we were able to dismantle it quickly and scored early goals that helped us manage the match. Fortunately, I was able to score."
"We can go fast if we trust each other. It was the first match in the World Cup and we have to keep dreaming."
And he continued, "I suffered a slight strain in my knee and ankle. The doctors will assess the situation, and I hope that I will be ready for the next match and that I will be able to continue helping my team in the World Cup."
He added, "When you hear the media talk about the Ecuadorian national team, we only hear the negatives, and we tried to prevent them from entering between us and focus on our training and work, and we have to live the moment because we got three points, and we must dream of continuing to do so, despite the difficulty of the matter."
And Valencia became the second Ecuadorian player to score in two different editions of the World Cup, after Augustin Delgado.
And Valencia raised his tally of goals in the World Cup to number five, to be the sole top scorer for Ecuador in the global competition, after breaking up the partnership with Augustin Delgado.
Valencia also scored a double for the second time in the World Cup, which no other Ecuadorian player has done throughout the history of the World Cup.
Valencia is the oldest player to score a goal in an opening match at the age of 33 years and 16 days, ahead of Alessandro Altobelli at 30 years and 184 days.
The 33-year-old scored his 37th goal with Ecuador in 75 games.
Valencia scored the last 5 goals for Ecuador in the World Cup, only Eusébio, Paolo Rossi and Oleg Salenko have scored more goals in a row with six consecutive times each.
And he became the first player to score two goals in the first half of the opening of the World Cup since Italian Angelo Schiavio against the United States in the 1934 opening.
The Qatar national team will play its second match, November 25, against Senegal at Ahmed Bin Ali Stadium.
While the Ecuador national team meets the Netherlands on the same day at Khalifa International Stadium.