Lewandowski, a record-breaker and glimpse of Messi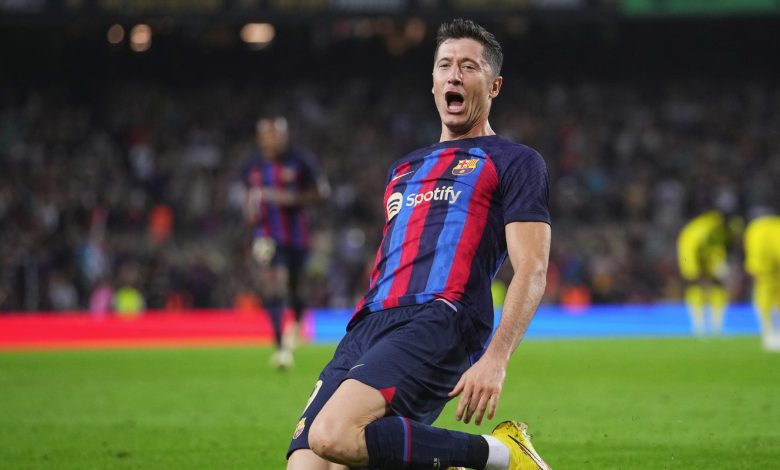 The Polish striker led the reaction against Villarreal in LaLiga Santander scoring in his seventh league game marking his 11th goal
After Barça suffered from two fateful games against Inter and Real Madrid, Robert Lewandowski led the reaction of the team against Villarreal in LaLiga Santander as the indispensable goal scorer put on a performance that led to a strong team reaction.
Lewandowski did what he always did and what he does best: put his name on the score sheet. Villarreal gave him the fifth double of the season, plus a hat trick. The others were Real Sociedad, Valladolid, Elche and Inter and the only hat trick was against Viktoria Plzen. In total, 16 goals in 14 games, In LaLiga Santander he is leading the "Pichichi" race with 11, 4 more than Borja Iglesias (Betis) and Joselu (Espanyol).
The Polish striker gave Barça a glimpse of Messi. His numbers are astonishing. He has one goal less than the Argentine legend in the first 14 games of a season, counting all competitions. Today's PSG striker had scored 17 in 2012-2013, with Tito Vilanova on the bench. 'Lewy' scored 16 this season.
Lewandowski has provided the strongest performance in a start of LaLiga season in years. The Polish striker scored in 7 of the first 10 games so far. Leo (Messi) scored in 6 out of the first 10 in 2010-2011 and in 2012-2013. Eto'o done the same in the league 2005-2006. so, Lewandowski had a unique record in LaLiga Santander in this century, beside it is a record in the Barça club, although it is not the only one.
Since the Brazilian Ronaldo, in the 1996-1997 season, no newcomer in LaLiga Santander equaled or exceeded ten goals in the first 10 games, that was 26 long years ago. Further away are the records of Romario (1993-1994), Hans Krankl (1978-1979) and Johan Cruyff (1973-1974), who are also scored 10 or more goals in the first 10 league games.
'Lewy' overtook Ibra's record, who took 12 games to score his first 10 league goals, or Cristiano Ronaldo, who needed 13 with Real Madrid.