Raúl sticks to his position in Real Madrid and said no to Schalke
The coach is happy managing Castilla, and, despite the offers of the German club, he is determined to continue with Los Blancos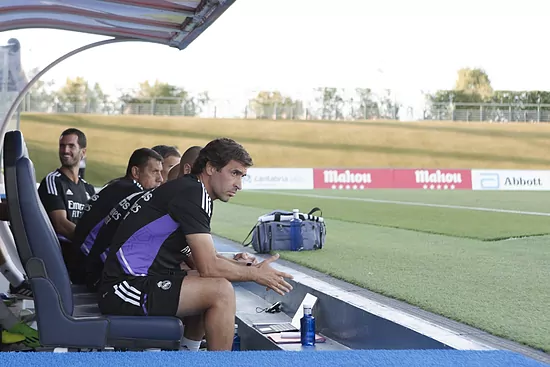 Raúl González is where he wants to be. He's happy at Real Madrid and training Castilla. At least for now.
This was mentioned by Marca because in the last few days he received a new proposal from Schalke 04, which was the club he previously played for after leaving Real Madrid as a player in 2010, now they want him to become the coach of the Bundesliga team, this is a club that has not yet found its way to the competition. But the proposal was rejected by Raúl.
His commitment to Real Madrid does not invite him to think about adventures. he is determined to continue to train players and think about the possibility of leading the Real Madrid Castilla to the Segunda División (la Liga Smartbank)
There have been other contacts
Schalke returned to the Bundesliga this season after relegation their relegation in 2020–21. They are currently in the bottom of the Bundesliga current standings already and yesterday they announced the arrival of head coach, Thomas Reis, to take over the position that was occupied by Frank Kramer. Raúl did not believe that it was the right time to make a leap and decided to continue as coach of Castilla.
It's not the first time since Gelsenkirchen they remember Raul. In the season in which they had relegated (20-21) they already tried to seek the Spanish manager, a former footballer who played for three seasons at Schalke and in which they reached the semifinals of the Champions League for the first time in its history, besides winning the German Cup.