Real Madrid Predicted Lineup VS Girona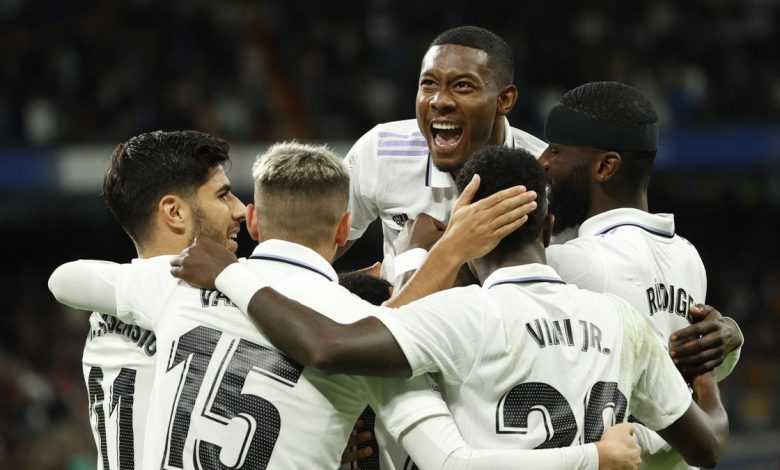 The Real Madrid team hosts their counterparts Girona on 5 and 4 p.m. Sunday, at the Santiago Bernabeu Stadium, in the 12 round of the La Liga competition.
The Real side are level at the top of La Liga with Barcelona on 31 points, but Barsa are outscored on goal difference.
The Spanish newspaper Marca published the projected formation of the Real against Girona in Match of the Day, which read as follows:
Goalkeeper: Thibaut Courtois.
Defence: Danny Carvajal – Eder Militao – David Alaba – Ferland Mendy.
Center: Orielin Chuamini – Tony Cross – Luka Modric – Fede Valverde.
Attack: Marco Asensio – Vinicius Junior.
Real Madrid are looking to continue their La Liga victories against Girona, remaining at the top of the Liga standings table under ongoing prosecution from Barcelona.
Real Madrid sought to reconcile their fans by beating Girona today, after a 2-3 defeat to Leipzig in the fifth round of the Champions League group stage.
Real Madrid had sealed their qualification for the last 16 of the Champions League, in the fourth round of the group stage, despite the defeat to RB Leipzig, but would not exceed the Royals at the top of Group F by winning the sixth and final round on the Scottish club.
There are considerable doubts about the readiness of the duo Karim Benzema and Vedi Valverde to meet with Girona, due to the complete lack of readiness after their return from injury.
Karim Benzema had missed Real Madrid's matches against Sevilla and Leipzig in La Liga and the Champions League respectively, while Fede Valverde was out of the Maringey's calculations against Leipzig.