Gerrard: "Coutinho was not happy in Barcelona"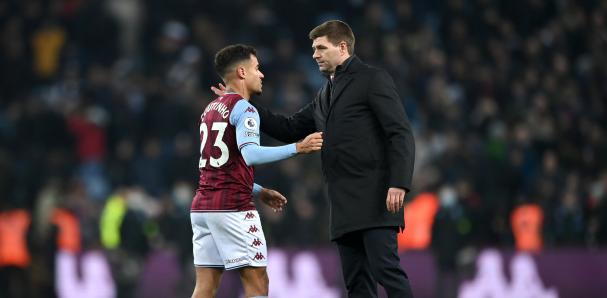 Aston Villa's underfired coach comes out in support of the Brazilian after his disappointing start to the season
Aston Villa' manager, Steven Gerrard, has assured that Philippe Coutinho was not happy in Barcelona and that, although he is not at his best form now, he is confident that the Brazilian would achieve that with the Premier League team.
Coutinho arrived in January at the Villa on loan from Barça, before being transferred permanently in May for 20 million euros. After six pretty good months in Villa Park, the Brazilian half did not start at the best level this season and in the eleven games he has played has not scored or assisted.
"I trust him completely."
"We decided to sign Phillipe, you could see that he was not happy in Barcelona. With his age and talent, I trust him completely. The numbers say he is not at his best, but we will give him all the support he needs," said Gerrard, criticized for his part as Villa is 16th in the Premier League just one point from the relegation zone before visiting Fulham tomorrow.
"He's working and he's trying, like the team. Maybe he just needs a little luck to help him believe and trust himself, but he hasn't lost talent or class. When he arrived, he did very well. His quality is still there, my opinion about him will not change," Gerrard told reporters to conclude this subject.