Premier League: the unrest continues between Cristiano Ronaldo and Manchester United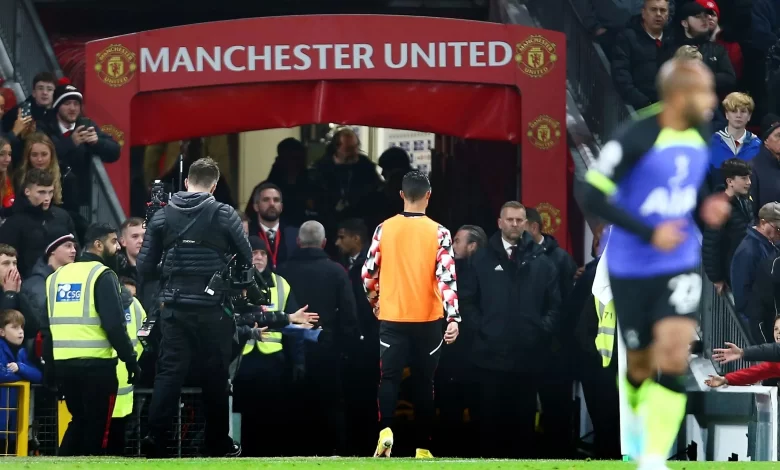 Not used by his coach Erik Ten Hag, who did not let him in during the match between Manchester United and Tottenham on Wednesday in the Premier League, Cristiano Ronaldo, showed his dissatisfaction, decided to leave the bench in the 89th minute and went to the dressing room before the end of the game.
it happens again. Cristiano Ronaldo, who sat on the bench during Manchester United victory (2-0) on Wednesday night against Tottenham in match week 11 of the Premier League ,the Portuguese was an unused substitute. and as a reaction for that, he left the bench before the final whistle heading to the dressing room. Moments earlier, Casemiro gave way to Christian Eriksen. The change was too much for the striker who didn't take the new challenge from his coach, Erik Ten Hag. On Monday night, he finished 20th at the Ballon d'Or, his worst ranking. His discomfort has been constantly obvious since the beginning of the season when his Dutch coach decided to leave him on the bench.
In the Premier League this season, the 37-year-old Portuguese has only been in the starting line-up three times and has only played a full game in Brentford on match week 2 as the team lost (4-0).
Played in the last two games of the Premier League, last Sunday against Newcastle (0-0) and the one before against Everton (1-2), where he had also scored his first league goal this season, The five-time Ballon d'Or winner probably thought he was going to start the latest game against Tottenham, which might explain this new frustration. Eric Ten Hag decided to start with Marcus Rashford, the man who replaced Ronaldo in the 79th minute of the game against Newcastle last Saturday, as the player did not hide his discontent when he was substituted.
An expected sanction?
Asked about this at the pre-match conference against Tottenham, Erik Ten Hag did not want to fuel the controversy. No player is happy to be replaced, explained the Dutch manager. Even less Cristiano Ronaldo. As long as (his attitude) remains normal, there is no problem. He thinks he should have stayed on the pitch and scored (against Newcastle). That's also why he's so strong. We have to play four games in ten days and I absolutely want to keep my attackers fresh… Even though Rashford didn't have the (fitness) ability to play the whole game, I thought he could make an impact by bringing him in at the end of the game. We have to plan everything and if he had scored, everything would have been perfect."
In the Europa League, however, Cristiano Ronaldo started the 4 matches of the group stage. But this is not enough for this football legend who would have obviously preferred a better preparation for the World Cup in Qatar, the only title he lacks in club and international career combined. Once the World Cup is over, rumors of departure during the winter transfer market could come back quickly…
In the meantime, his attitude should not be allowed without sanctions. The Dutch technician has already announced that he will take action on Thursday. Financial sanctions are expected, it is also not certain whether Cristiano Ronaldo will be in the squad for the game against Chelsea on Saturday at Stamford Bridge. (match week 13 of the Premier League)