Bad luck accompanies Christaino Ronaldo This Season Of Premier League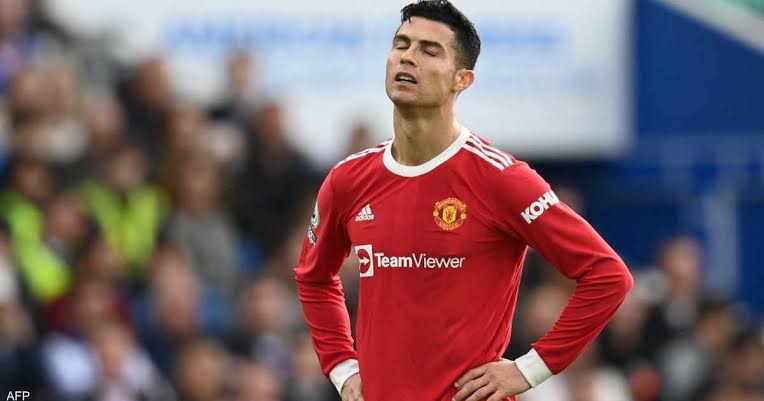 Manchester United striker Cristiano Ronaldo says he will continue to work with his team and will return to his ranks soon, after the club announced that Don will not be on their list for the next game.
Ronaldo, a substitute who was not involved in Wednesday's 2-0 win over Tottenham Hotspur, headed to the tunnel leading to the locker room with a few minutes left after coach Eric Ten Hague left him back on the bench.
The current season is the weakest in Ronaldo's scoring career with the Red Devils during this season, both in Premier League and Europa League games.
The Opta Network of Figures, which monitored a very exciting statistic of Ronaldo, said that the Portuguese Don had scored only one goal (penalty) from 33 shots with club and country this season so far.
Ronaldo participated mainly during Manchester United's match against Omonia Nicosia of the Cyprus, in which the Red Devils succeeded in converting a 3-2 goal deficit in the clash at the New GSP Stadium, in the third round of the Europa League group stage for the current season.
The marketing value of Portuguese star Cristiano Ronaldo, a Manchester United player and historic Champions League scorer, fell to just 20 million euros.
Ronaldo's marketing value has fallen dramatically over the past four years, with the Portuguese player's value reaching 120 million euros at the time of his departure from Real Madrid in July 2018, to 20 million euros, meaning he lost and lost more than 100 million euros.
In 2018, Ronaldo moved to Juventus for 117 million euros and returned to Manchester United in 2021 in a deal worth 15 million euros.
The 37-year-old Don has fallen to 20 million to record its lowest number since 2005, when he was a young player during his first spell with Manchester United.
Cristiano Ronaldo is struggling after staying with Manchester United, missing out on this season's Champions League and only taking part in the Europa League for the first time in his career.
Cristiano Ronaldo has been living through difficult periods at Manchester United for the worst in his history, accompanying substitutes, only starting two meetings in the Premier League, not scoring many goals and deciding meetings, and living nervously with Dutch head coach Eric Ten Hag.
Perhaps these difficult situations and the decline of his role within the stadium in addition to his age and reaching 37 years significantly reduced his market value, perhaps the lowest in his history since 2004, where the price according to Transport Market did not exceed only 20 million euros.
When Cristiano Ronaldo became the highest deal in Real Madrid's history in the summer of 2009 for 96 million euros paid to Manchester United, his market value reached 120 million euros in 2014 and 2015, and in 2018 Juventus paid 112 million euros to sign him from Real Madrid.
In June 2021 Cristiano Ronaldo's marketing value was 45 million euros and a year later fell by more than half 20 million euros, finishing 15 at Manchester United according to his value and 171 among Premier League players.
The present value has been the lowest in his career since he was 19 years old in 2004, amounting to EUR 18 million, but currently he is 37 years old and problems haunt him on and off the field.