Guardiola Is Waiting For Haaland to Break Salah's Record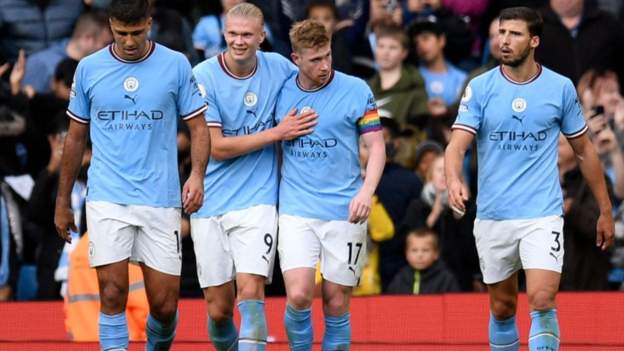 Guardiola expects Haaland to break Mohamed Salah's record in the English Premier League.
Manchester City coach Pep Guardiola expects his Norwegian striker Erling Haaland to break the record recorded by Egyptian Mohamed Salah, as Haaland leads the Premier League's top scorer with 17 goals in 11 games, 7 goals behind his closest pursuer, Tottenham striker Harry Kane.
Mohamed Salah is the record holder for the number of goals scored during 38 rounds of the Premier League season, with 32 goals, accompanied by Liverpool in 2017-2018.
And the Spanish coach added, "In football, you may score and after a few days you stop scoring, you don't know, but Haaland continues at this rate, he will break the record, Haaland is happy when we win and not when we don't, all the strikers I saw, Samuel Eto'o, David Villa, Lionel Messi, Robert Lewandowski, Thomas MullerAnd Sergio Aguero, they have an incredible ambition to score a lot, that's normal, and Haaland is like them.The Citizens coach concluded, "The period that Haaland lived in Borussia Dortmund helped him. We hope that in a few years he will be a better player thanks to his colleagues with whom he plays here in City."
Halland separates only 6 goals from the number that Salah and Son Heung-min scored, the league's top scorer last season, 23 goals, and there are still more than two-thirds of the season remaining.