Pep Guardiola: Play Haaland VS Leicester uncertain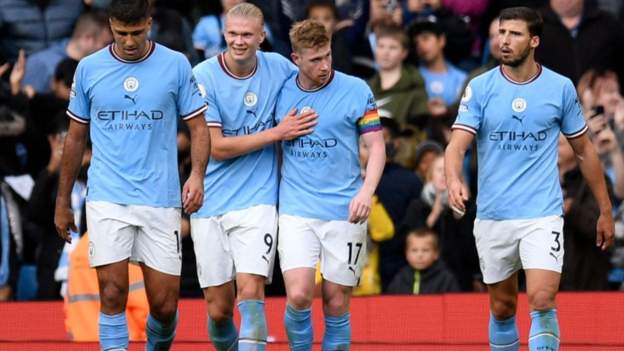 At a news conference on Friday, Pep Guardiola was unable to say whether Erling Haaland would be ready for Manchester City's match against Leicester on Saturday.
The Norwegian was taken off at halftime of Tuesday's scoreless draw with Borussia Dortmund owing to a trifecta of ailments: fatigue, fever, and a foot trouble.
Although Guardiola claims that the striker's situation has improved and that he is training, it is unclear whether he will take on the Foxes in the King Power match at 12.30 p.m.
He feels better, but we'll practise this afternoon and make a determination in a couple of hours, the Spaniard stated. "We'll wait and see how he feels before making a decision!"
Regarding other potential injuries, such as Joao Cancelo, he continued, "Everyone had trained well." I'll have to wait until they return (this afternoon) before I can gauge their mood.
However, because they are still out of the running, Kalvin Phillips and Kyle Walker are not included in this.
After the match in Germany, Guardiola remarked about Haaland: Three things, said the City manager, "I saw him so fatigued." The second time, he experienced a little fever, much like Joao Cancelo. He received a blow to his feet on the third. He was unable to play in the second half because of this.
If Haaland is unable to regain his health in time for Saturday afternoon, Guardiola said that Julian Alvarez would replace him.
"Julian is typically the first choice if Erling is not ready," he remarked. He can play false nine, but I don't believe this will happen. Julian is the first choice if Erling is not prepared.
He will score goals if he plays 90 minutes per game, maybe not as many as Erling, but he will score goals.
Maria mark