Conte: "Liverpool are definitely a good example for us"
The Italian manager has heaped praise on Jürgen Klopp and how the German transformed Liverpool.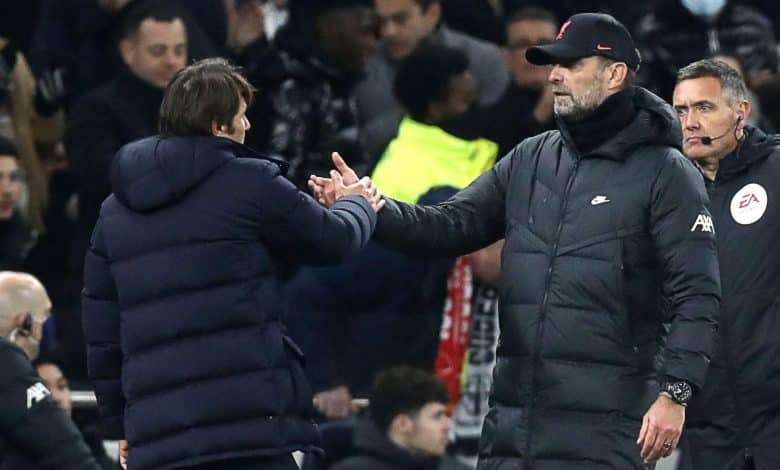 Antonio Conte has heaped praise on Jürgen Klopp and how the German transformed Liverpool and brought them back to be a winning team.
Tottenham will face Liverpool on Sunday evening in match week 15 of the Premier League, an important clash for both sides with each team having a varying start this season.
Spurs are third on 26 points, 5 points behind current leaders, Arsenal, while Liverpool are ninth on 16 points.
Head coach Antonio Conte spoke about German manager Jurgen Klopp, praising his role at Liverpool, and that what the Italian manager are aiming to replicate with his current team, Tottenham.
The Italian coach's remarks came when asked about his relationship with his German counterpart: "The relationship is normal. His story speaks of him, he has changed Liverpool. I remember very well; Liverpool didn't win for a long period, and he needed four years to bring Liverpool to be able to win again. This shows that it is important for a coach to have time."
Conte added: "If people don't know about football, they think that the story of this coach is a winner, it is not so. Jurgen shows that through the work and the matches and the transfer market that he improved Liverpool a lot and brought them to the top. For sure I can speak well about Jurgen and Liverpool and the players, they are definitely a good example for us."
The Reds will visit the North London side with Liverpool suffering from the loss in 3 of their last 5 league games, but it is also not the best period for the hosts as they have also suffered from two losses in their last 5 games, which is more than the team has had in their first 8 league games of the season.
However, both sides will head to the game on the back of a good performance on Tuesday evening in the Champions League, which saw Liverpool beat Napoli by two goals to nil, while Spurs were able to come back from one goal down to 2-1 win at Marseille to advance to the last 16 and be the top of the group.