"Cool as a cucumber" … Erling Haaland sends Man City top of the Premier League
The Norwegian striker scores from a penalty in the 95th minute to give the home side 2-1 victory over Fulham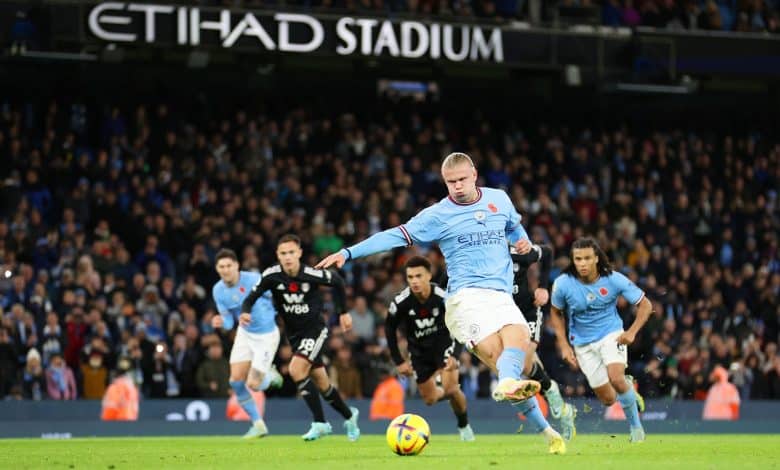 Super substitute Erling Haaland saved Manchester City from losing two points loss as he successfully converted a penalty into Fulham's net, giving his side a 2-1 victory in the match week 15 of the Premier League.
The Premier League' top scorer began the game by being on the bench, leaving the responsibility of the attack to the Argentinian striker Julian Alvarez.
Alvarez scored the opening goal of the game after 17 minutes from the start, to put the hosts ahead early in the game.
While everyone thought the game would go in the hosts' Favour, the visitors daunted everyone with a penalty in the 28th minute, resulting in Joao Cancelo's dismissal and Andreas Pereira's equalizer for Fulham.
Coach Pep Guardiola decided to bring on Erling Haaland and Phil Foden in the 63rd minute replacing Jack Grealish and Julian Alvarez, and indeed the Norwegian striker scored in the 75th minute but the VAR intervened and cancelled the hosts' second goal for Haaland's offside.
In the added time of the game, Kevin De Bruyne awarded a penalty as a result of a foul from Antonee Robinson, Haaland kept his composure to tuck away his 18th league goal of the season.
Haaland scores in the 94 minutes and 33 seconds, which is Manchester City's latest winning goal in the Premier League since November 2017 against Southampton, when Raheem Sterling scored on 95:04.
The result means Manchester City move above Arsenal on 32 points with the Gunners facing Chelsea at Stamford Bridge on Sunday. Fulham remain seventh on 19 points after their four-game unbeaten run was ended.