Liverpool Praises Salah VS Ajax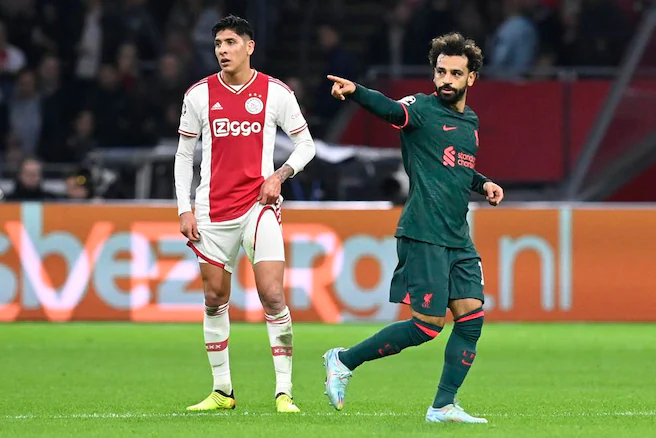 The official Liverpool team account posted a tweet singing what Egyptian star Mohamed Salah gave in the last Ajax match, which ended with the Reds winning 3-0 in the match between them at Johan Cruyff Arena, in the fifth round of the first group for the current season 2022-2023.
The Liverpool club's official Twitter account has studied vision and passing from King Mohamed Salah and a decisive finish from the Reds jewel Harvey Elliott.
Mohamed Salah claimed the Champions League top scorer with 6 goals in partnership with Paris Saint-Germain's Kylian Mbappe.
Liverpool FC goals were scored by Mohamed Salah, Drawen Nunez and Harvey Elliott in the 42nd, 49th and 52 minutes respectively.
Liverpool officially qualified for the last 16 of the Champions League following Wednesday night's win at the expense of Ajax Amsterdam.
The Ajax club will fly to the Europa League after finishing third in the Group A standings.
Liverpool FC are second in the Champions League Group I standings table with 12 points collected from 4 games, one loss, 15 goals and 6 concessions.
Ajax, the home side and the public, are third in the Champions League Group A table with 3 points collected from a single win, 4 losses, 8 goals and 15 concessions.
Liverpool FC needed one point from their current and past rounds to qualify directly for the knockout rounds regardless of the rest of the group's results.
Ajax and Liverpool play in the first group, comprising Napoli, Italy, and Rangers in the Champions League.