Rüdiger sacrifices maintain Real Madrid reputation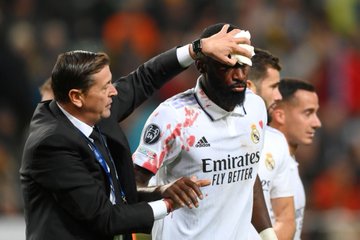 Real Madrid have avoided a surprise result on Thursday evening when they managed to draw 1-1 against Shakhtar Donetsk in the 95th minute.
It was the German defender, Antonio Rüdiger, who saved the day for the reigning European champions.
The German threw himself to place his head ahead of the opponent's goalkeeper and managed to but the ball into the net, but at the expense of 20 stitches on his forehead due to late collision, and as a result of that, Rüdiger remained on the ground for long minutes, covered with blood on his face, before finally getting up.
Thanks to this draw, Real Madrid have guaranteed the qualification to the knockout stage of the champions league before two rounds from the end of group stage.
The reigning champion took the lead of group F with four points ahead of Leipzig, the closest rival in the group.
Real Madrid maintained their reputation as the kings of the late goals. since the last season, no team have scored more goals in the last 15 minutes of champions league matches than the Spanish giant.
Carlo Ancelotti, Madrid coach, said after the game: "We haven't played well but this team never gives up. We qualified for the round of 16 on a night that looked bad and that's a good thing."