Jurgen Klopp: Mohamed Salah's achievement of records is something usual and exemplary, his performance is exceptional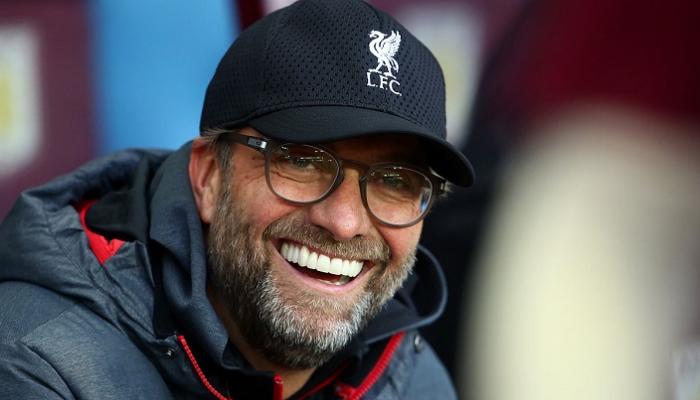 German Jurgen Klopp, coach of Liverpool FC, said about Mohamed Salah's high performance and scoring a hat-trick during the Rangers F.C match. Which was held on Wednesday evening and ended with the Reds winning 7-1, in the fourth round of Group A in the European Champions League for the current season 2022-2023.
Jurgen Klopp said during the match's press conference: "Salah was exceptional tonight, without a doubt. He played as a substitute and in a different position, but he was very good."
Jurgen Klopp added about Mohamed Salah: "I hope that everything will be better for him from now on, and for us too, but we have to build on these moments and this is what we will do." Klopp stressed: "Salah is a distinguished player, and his achievement of these records has become something usual and exemplary."
Klopp explained: "I am very happy with this win per se and not with the result. I never told my players to score 7 goals tonight. No. Even if we won 2-1 tonight my mood would be the same (happy), so everything is fine. Our performance today. Our approach to the match was difficult for them."
Klopp stressed: "The difference (in the atmosphere) was great before and after we scored, but someone told me yesterday that the atmosphere here is always the same in every match, it was a wonderful and intense atmosphere, especially after they scored, but after the equalizer and others, it was important to calm down (the fans) and that can only be done." Only by playing and not by rough interventions.
Jurgen Klopp said: "Henderson played a lot and so did Darwin so we have to think about (Sunday squad) but the changes were good today, and now we are recovering and preparing for Sunday."
Jurgen Klopp continued: "Now we have to recover and the changes tonight were good because there was a chance to make them. Jota did not start because the medical staff told me this morning that there is a slight muscle problem but he can play but not for long, and I took that decision and it was an appropriate decision."
Jurgen Klopp said: "Will there be changes on Sunday? We'll see. I'm always ready to make changes in the right direction. The best team in the world is waiting for us on Sunday and they will come to Anfield. We'll see what we can do. Today the changes were for different reasons, yes, today's result is strange, but we achieved it a few years ago." For years, I don't know against which team."
Jurgen Klopp stressed: "I watched the players' celebrations and how much they meant to them, especially Darwin.
Klopp confirmed: "This victory changes the mood for sure and is good, but we know who we will welcome on Sunday and it will be a different match, but it is better to go to that match in that mood for sure."
Klopp continued: "Tonight everything went according to plan, the result was deserved because we kept playing and working. Today their defense had to do everything against us so we had to keep working and scoring and this is the most difficult thing but the goals were so amazing. Bobby's preparation for Bobby's goal was great and then Mo came in. Salah was glowing, played with the right spaces and focused well."
Jurgen Klopp noted: "Today it was difficult to defend against our attack. When we excel in attack, we can be a very good team."
Klopp said: "A very nice moment to score Harvey Elliott, this goal meant a lot to him and he played a great game and deserved his goal."
Klopp said: "The players adapted to the formation was very wonderful and everyone did well, especially Harvey and Fabio Carvalho, and made the task easier when the substitutes entered. This result was the best we could have hoped for."
Klopp concluded: "The goals today were amazing, how we made them and how we scored them. A decisive attacking performance throughout the match, and this is what we had to do after the first half and what we tried to do."