Injury scare for Brazilian star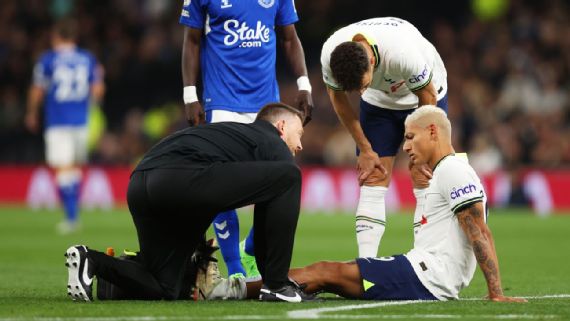 Richarlison caused a scare during Tottenham's 2-0 victory over Everton on Saturday in game week 11 of the Premier League. The attacker left the field limping and feeling a pain in the left calf. reports said that in the dressing room, there was much crying.
ESPN stated that the Brazilian was in deep sadness in the locker room. Richarlison is very concerned about what he felt on the pitch because of the proximity of the World Cup.
Richarlison's tension is that the injury problem in his calf. He experienced a similar problem at Everton when he was away for two months.
According to the report, the tendency is that Richarlison will do a specific examination this Sunday. If it is injury grade 1, he would be out for 10 days. If the injury was grade 2, the minimum period would be one month.
Tite's Brazil squad selections to the World Cup will take place on November 7, with the competition starting 13 days later. Richarlison was practically a certain name among the 26 names.
Richarlison was a key player for Antonio Conte this season, playing 9 games in the Premier League, and all the games in the Champions League (4).
The Brazilian attacker scored 2 goals and assisted 3, and beside that, he was a permanent member in Tite's squad, as he featured in all last six international games with Brazil, scoring in five of them (7 goals in total) and assisting two goals.