Familiar faces … Jorge Sampaoli aiming for reunion with Ligue 1 stars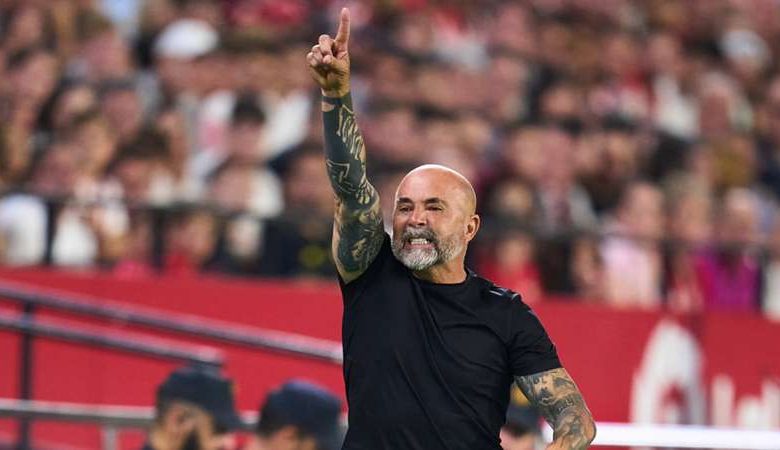 It's early days for Jorge Sampaoli at Sevilla FC but the Argentinian Tactician is trying to straighten the course of the team with the current resources.
At the moment, the team have two draws in the two games played under his guidance (Ath Bilbao and Dortmund) and Sampaoli's priority is to start playing well because, he believes, the results will end up coming.
Meanwhile the winter market is still so far away, Sampaoli is asking for reinforcements, and according to the Spanish outlet, sport, the Argentinian has notified the sporting director, Monchi, about two players he knows well during his tenure in the French league.
One of them is Gerson, a Brazilian midfielder served previously with Sampaoli at Olympique de Marseille in 2021/2022, as he produced a tremendous attacking output, scoring 9 goals and assisting 7 in 35 games in Ligue 1.
Sevilla would have started to move to see the real possibilities of adding Gerson to their squad in the next market, but for now the price may put them off because Marseille paid 20 million euros to conclude the arrival of the player from Flamengo just a year ago and they are not willing to lose money.
The Brazilian performed very well while managed by Sampaoli and it seems that he could be willing to change teams in order to work again with the Argentinian, however, everything will depend on the price that will be set by Marseille.
The other player that Sampaoli likes is Wissam Ben Yedder, Monaco striker who spent four seasons in the Andalusian team before being transferred to his current club for 40 million euros.
Ben Yedder's performance in Monaco has been very good, being one of the most recognized strikers in Ligue 1. he has scored 4 goals and assisted one in 8 games in the league this season.
Ben Yedder has a previous experience under the management of Sampaoli, and it was actually in Sevilla, in 2016/2017, as they worked together in a successful season for the Andalusian team which ended by securing the 4th place in the league, qualifying to the last 16 in champions league, and Ben Yedder was the top scorer with 18 goals in all competitions.