Newcastle coach Eddie Howe wants his club to reach the level of Manchester United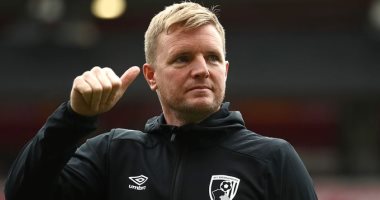 Manchester United is still widely regarded as the world's largest club in terms of global reach,
Eddie Howe believes that one day Newcastle United will be a great team like Manchester United, But Howe says  to Daily Mail that Newcastle, under Saudi-backed ownership, has the ambition to keep pace with its following.
"I don't like to put extreme ceilings on clubs," he said. "Given my own history, Bournemouth have been linked as a single league team, the Second Division." We've seen them grow into Premier League clubs. So why not (Newcastle is the size of Man United)? "The goals of this club, with the ambition behind the scenes, are hugeWe must now try to realize those huge ambitions. But there is no ceiling here.
When you see the passion around the city, the thing that always amazes me is the young people here – 12, 13, 14 years old, their passion for Newcastle. It passes through the generations and it won't stop.
What will happen, hopefully, is the global brand and global enthusiasm for Newcastle will grow, if the club is successful. I'm putting more pressure on myself here, but that's the challenge and that's where the club wants to be.
Newcastle sporting director Dan Ashworth said this week that the club "never want to sell Bruno Guimarães", while also acknowledging the need to swap players in their attempt to push the boundaries of financial fair play.
But Howe sees it as key to the club's journey in catching up with the likes of Manchester United. "We very much want Bruno to be happy here, to enjoy football and see a long-term vision," said the coach. "We want to build a team. We're in the very early stages of that, so we don't want to disrupt the group we have, we want to add quality – that's the goal."But
Bruno did an incredibly good job.
He adapted really well and embodied the team spirit and drive we need to be successful
Newcastle and Manchester meet at Old Trafford on Sunday with Howe teams currently sixth in the Premier League, one place and one point behind their hosts.