Arsenal retain the top spot in Group A of the Europa League with 9 points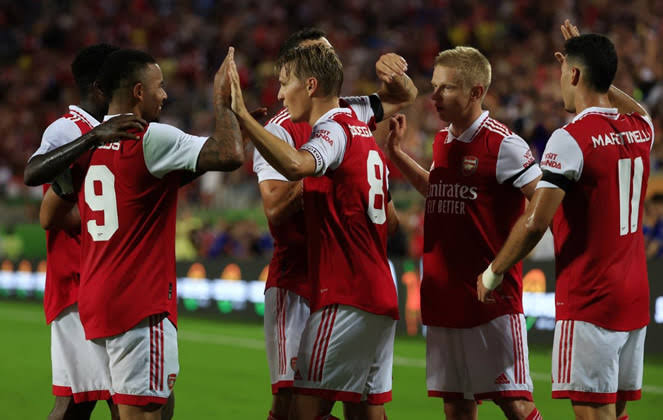 he Arsenal team is experiencing a state of local glow in the English Premier League this season, as it is at the top of the English Premier League with 24 points, and is at the top of the Premier League competition, one point ahead of runner-up Manchester City with 23 points.
The Egyptian star, Mohamed Elneny, was absent from the confrontation after Arsenal announced that his Egyptian star Elneny had injured his hamstring, but the details of the treatment and the duration of his absence from the stadiums have not yet been determined.
Arsenal deservedly beat its host Bodo Glimt 1-0, in the match that was held between them on Thursday evening at the "Espmera" stadium in Norway, in the fourth round of the group stage of the European League this season 2022-2023.
Arsenal winning puts him at the top of the first group standings in the European League, and strengthened this position, with 9 points, collected from winning 3 matches, scoring 6 goals and receiving one goal.
On the other hand, Bodo Glimt's balance froze at 4 points in third place, with a difference of direct confrontations behind Eindhoven, the second-placed, equal with him in the same balance, before his meeting with his Swiss guest Zurich later today in the same round.
Arsenal coach Mikel Arteta commented on his team's victory over Norway's Bodo Glimt in the Euro League :"I'm really happy to beat Bodo Glimt in Norway after Seven days  beating Bodo/Glimt, we are back at the same showdown again, as we aim to take another step towards qualifying for the Europa League knockout stage.
After winning 3-0 at the Emirates Stadium last week, Mikel Arteta admitted he is expecting a very different test in this second leg, as he head to the Arctic Circle for a match that will take place on an artificial pitch.
It's a place teams haven't enjoyed heading to in recent years, with Bodo/Glimt winning their last 14 home matches in European competitions, the longest any team has scored since the 15-match Barcelona game that ended in March 2017.